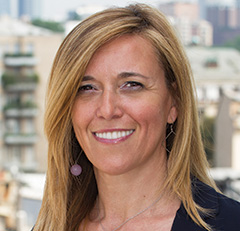 Paola has built a strong reputation for globally supporting clients in handling and protecting their trademark and design Portfolio
Paola is an Italian and European Union Trademark attorney, based at Bird & Bird in Milan.
She has a broad experience in Italian and European intellectual property law and she represents clients from a range of industries including the food, fashion, entertainment, media, retailing, finance and insurance businesses.
She is particularly experienced in trademark/design proceedings, in particular in filing trademarks and designs, in defending and opposing trademarks and in defending designs as well as in opposition procedures before the Italian and European Union Intellectual Property Office and in nullifying actions both for trademarks and designs before the European Union Intellectual Property Office.
In addition, she is a trademark strategist with extensive experience in managing trademark portfolios and advising on branding strategies for a wide range of clients from individuals through to large multi-nationals, both in Italy and overseas.
Paola was admitted as Italian Trademark Attorney and as European Union Trademark Attorney in 1996.
After having worked as an Italian and European Union Trademark Attorney for about 20 years at Barzanò & Zanardo, Paola joined Bird & Bird in 2011 to assist clients on trademark, design and copyright related matters.